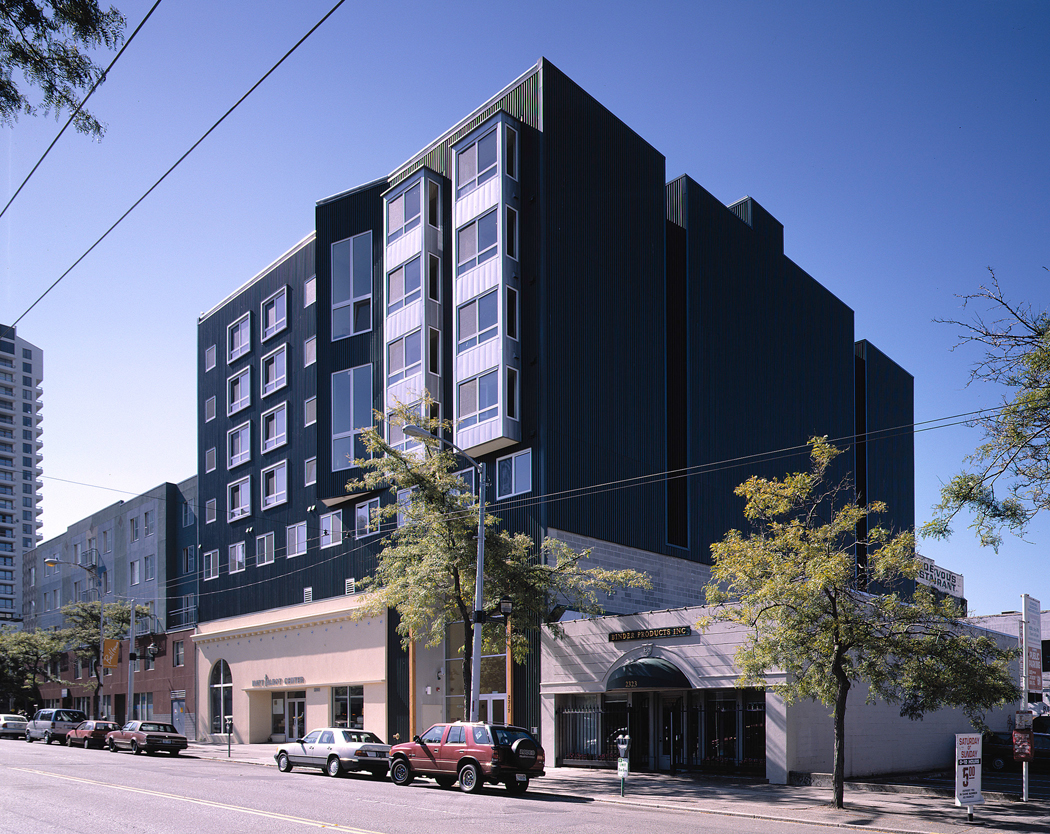 Client: Catholic Housing Services
Location: Seattle, Washington
Completion: 2003
Project Size: 50 Units + Common Areas. Existing Building = 6,266 SF. New Construction = 32,206 SF
Traugott Terrace
supportive Housing
Traugott Terrace provides housing for individuals with very low incomes - 38 permanent housing units and 12 transitional housing units - in downtown Seattle's Belltown neighborhood. The housing broadens the services of the co-located Matt Talbot Center, which offers programs to address substance abuse and addiction. The new structure was constructed above the existing Matt Talbot Center and within its adjacent 30′ wide parking lot.
Traugott Terrace was the first LEED Certified affordable housing project in the country, and adheres to the Seattle City Light Built Smart program's energy efficiency standards. With funding from the City of Seattle's LEED Incentive program and from Environmental Works' grant-funded sustainability initiative, the design team was able to incorporate extensive sustainable strategies. Energy efficiency has been maximized with high insulation levels, ample daylighting, fluorescent
fixtures, a heat recovery ventilator and a highly efficient gearless traction elevator. Building materials were chosen for their recycled content and low toxicity, and wood from sustainably harvested sources was used for framing and sheathing.
You may also be Interested In...